BattleFin Discovery Day Miami 2018
Do you have a unique Dataset?
Don't miss the BattleFin Discovery Day Data One-on-Ones
BattleFin Discovery Day's premiere private event where Investors, Managers, Data Providers and Systematic & Data-Centric Hedge Funds come to find Alpha, Capital and Funding.
As a data provider you will be able to showcase your products and services to Hedge Funds who buy data. The BattleFin Data One-on-Ones between data providers and data purchasers will bring top level quant and systematic hedge funds to Miami matching the right people and aiming to organically foster long-term relationships that mutually benefit both parties.
Each Data Provider will have a table where they will do their One-on-One meetings. Potential hedge fund customers seeking alpha generating data providers will rotate to meet with them every 15 minutes. Think Speed Dating for Alpha. There are 6 meeting slots on the 30th in the afternoon and on the 31st, 6 meeting slots in the morning and 6 meeting slots in the afternoon.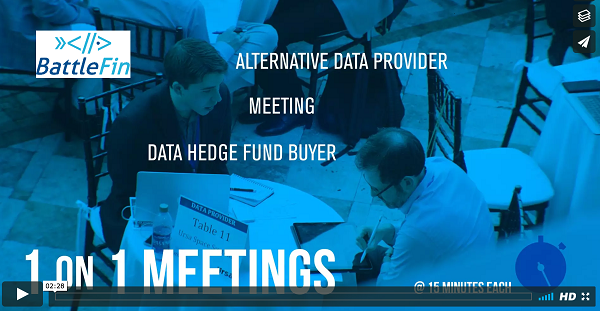 Rather then being stuck in the Vendor Hall, you get face to face meetings with pre vetted customers who want to learn about your company. Hear from Hedge Fund Data Buyers as to what they need to get to make a buying decidsion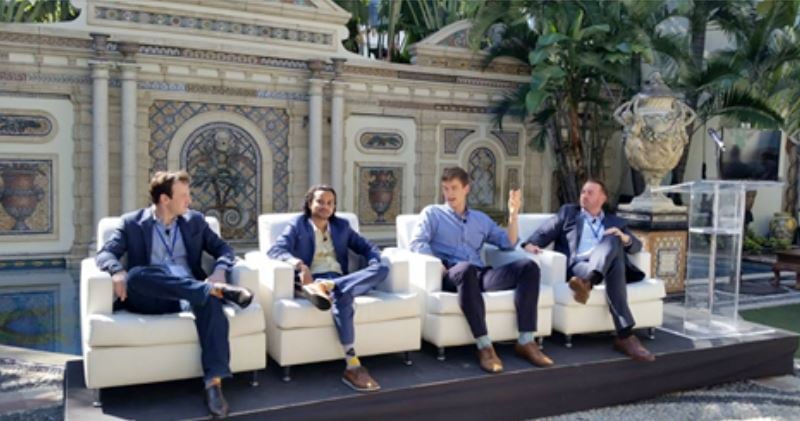 How can you participate? Fill out the form below.
Or contact us about One-on-One table packages. E-mail Events@battlefin.com or call Todd Schwendiman for more information - (203) 621-7950
SERVICE PROVIDER TICKET
$2,995
$2,495
Price Increases to $2,995 after Oct. 15th
BUY TICKET NOW
Includes 1 attendee ticket
Access to all the panel sessions and networking events
DATA One-On-One TABLE
$7,500
$6,000
Price increases to $6,500 after Oct. 15th and $7,000 after October 31st and $7,500 after Dec. 1st
Fill out form below to contact us about your data table package
Includes up to 2 attendee tickets
Up to 18 One-on-One meetings with Data Buyers
Gold Data Partner (No Priority Access and No Ensemble)
$12,500
$10,000
Price increases to $11,500 after Oct. 15th and $12,000 after October 31st and $12,500 after Dec. 1st
Fill out form below to contact us about your data table package
Includes up to 2 attendee tickets
Up to 18 One-on-One meetings with Data Buyers
Speaking role on a Data Panel
GOLD DATA PARTNER
(limit 8)
$17,500
$15,000
Price increases to $16,000 after Oct. 15th and $17,500 after Dec. 1st
Fill out form below to contact us about your data table package
Includes up to 3 attendee tickets
Up to 18 One-on-One meetings with Data Buyers
Speaking role on a Data Panel
Direct Access to Meeting Scheduler
Access to the BattleFin Ensemble before panels start on January 30th
Platinum data partner
(limit 4)
$30,000
$25,000
Price increases to $30,000 after Dec. 1st
Fill out form below to contact us about your data table package
Includes 4 attendee tickets
Up to 18 One-on-One meetings with Data Buyers
Stand-Alone Speaking Role
Direct Priority Access to Meeting Scheduler
Access to the BattleFin Ensemble before panels start on January 30th
Naming Rights and introductory comments at one of the event serctions
Exihibit Booth in One-on-One room