BattleFin was recently featured in Modern Trader Magazine, a trusted source for timely new trading tips, tools, and techniques. This 44-year old monthly markets magazine produces compelling and useful content for accredited investors, traders & managers, and anyone generally interested in finance. Consequently, it is the must-read journal for investors in the U.S. and 20 other countries. Click here to view the feature on BattleFin in Modern Trader Magazine (the password is: toptraders).
Modern Trader wrote two informative articles about BattleFin for their October, 2016 issue. The first article, titled "BattleFin: An Emerging Manager's Best Weapon?", was written by Steven Lord and provides insight into how BattleFin functions as an all-in-one manager, event organizer, platform provider, and fund incubator.
"A crop of innovative fintech companies are applying modern technology to the interaction between motivated investors and emerging managers...Connecticut-based BattleFin is one such company."
In the article, Mr. Lord explains the BattleFin process of using its proprietary Stadium technology to source, evaluate, incubate & allocate capital to the top Emerging Managers. Furthermore, the article reports on BattleFin's penchant for total transparency and the company's commitment to investing in winning strategies, as well as the importance of our Stadium platform and our unique and effective Discovery Day events.
"BattleFin does the heavy due diligence lifting. By investing its own money and that of its clients, some of the conflicts that have doomed other matchmaking services are avoided."
The second article, "BattleFin Tested", was written by professional trader Tim Fligg. Mr. Fligg has participated in multiple Discover Day events, which he has won three times. Additionally, he was portfolio manager for the Kelley Asset Management Fund at DePaul. And, he specializes in options and futures trading.
"Competing in BattleFin was a valuable learning experience. It's a lot of fun being part of something that's global and gets you out of your comfort zone."
"The BattleFin event includes networking parties that introduce traders and money managers to propective investors in places like Florida and New York. It entails cost but the goal is to win and potentially earn an allocation of up to $10 million for your strategy or fund."
---
Click the image below to see BattleFin in the news (password to view: toptraders).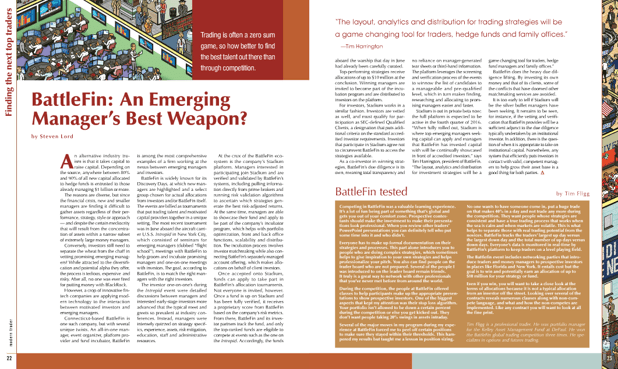 Are you a money manager or qualified investor? The next event we are hosting is Discovery Day Guggenheim on Wednesday, Oct. 19, 2016 in New York. Family Offices and other qualified investors are welcome to attend for FREE - register today! Plus, the top five new Managers who join the BattleFin Stadium Application in the run up to the event will be granted FREE access to Discovery Day as well.