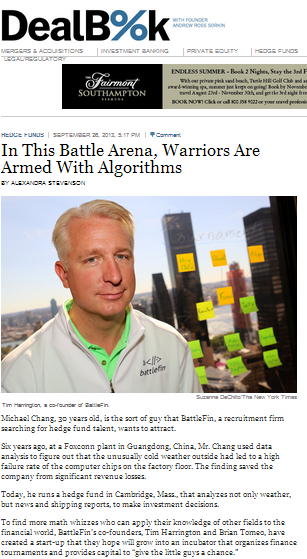 Today's New York Times Dealbook section features BattleFin and the Big Data Combine event coming October 25th.
BattleFin's mission is to make an impact on the Finance industry and we are thankful to all of our partners and supporters who help us make things happen. Check out our redesigned website to learn more about BattleFin and our global trading competitions.
A special thanks to the Nantucket Project for letting us share our story at what truly is an exceptional event.
Please use the form on the right to subscribe to email updates about BattleFin.
Today's New York Times article tells the story of people like Michael Chang, from Guangdong, China. Mr. Chang used data analysis to figure out that the unusually cold weather outside had led to a high failure rate of the computer chips on the factory floor. The finding saved the company from significant revenue losses. Today, he runs a hedge fund in Cambridge, Mass., that analyzes not only weather, but news and shipping reports, to make investment decisions.
"By creating our global trading tournaments, we're able to find these guys who are not on the radar screen of the larger seeders," said BattleFin co-founder BrianTomeo.

In the latest BattleFin competition, called the Big Data Combine, 382 teams from 43 countries have been given a data set of stock market prices with some closing prices missing. Using this and a series of external "clues" — news that could affect stock price movements — the players build a predictive model.

For many of the contestants, finance was not on the radar. To find them, BattleFin teamed up with Kaggle, a Web community of number crunchers hungry for data sets and up for a challenge, and RavenPack, a provider of sophisticated market data.

"What we're trying to do is figure out which people we can work with to make very interesting predictions with large data sets," Mr. Tomeo said.

On Oct. 25, 12 Big Data Combine finalists will compete in Miami. The top five finishers will split $10,000. The first-place finisher will get half of that, $5,000, and the opportunity to turn the winning predictive model into a strategy using sophisticated testing software. If the strategy is successful, BattleFin will help license the strategy to a hedge fund.